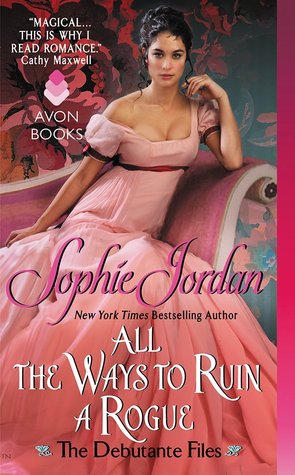 Sophie Jordan's historical romances are always imbued with a touch of heat and humor that keep the pages turning fast, and All the Ways to Ruin a Rogue, is no exception.
Lady Aurelia fell in love with Viscount Camden at the tender age of just nine when he visited her home with her brother. The two became close friends even though he was several years older than her. But due to their difference in age and some really poor judgment on each of their parts, they rapidly grew to loathe each other during a garden party that should have seen them happily reunited.
This is without a doubt a friends to enemies to lovers story. It is incredibly entertaining watching the two continuously getting thrown together - something that happens often thanks to Camden's close friendship with Aurelia's brother and Aurelia's mother's fondness for Camden. They repeatedly dare each other to outdo each other, neither wanting to give an inch. Aurelia refuses to be tamed by him while he refuses to let her run wild, their constant clashing driving them both toward the inevitable - the startling realization that they're perfect together.
This was pure fun and definitely worth diving into!