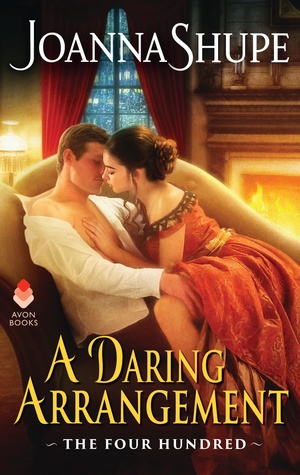 What a fantastic start to a new series!
This is the first Gilded Age romance I've ever read and I have to say, I wish there were more! Especially if they're this well written. A Daring Arrangement starts off with a bang, making the reader eager to know where this thrilling ride of a novel will take them.
Lady Honora Parker (Nora) has been shipped off to New York by her father after deliberately getting caught in a compromising position with the man she wants to marry - a struggling artist named Robert. But when her plan fails to result in the special license she'd hoped for, another plan must be devised. What better way to encourage her father to fetch her home to England and to Robert, than to form an attachment with the most scandalous man in New York?
Enter Julius Hatcher...
Julius is at first amused by the prospect of escorting Nora around Town. Certainly, she's easy on the eyes, but if there's one thing this bachelor investor will never do, it is marry. But when Nora assures him their "engagement" will never lead to that because she in fact hopes to marry someone else, he considers her proposal more seriously. After all, there could be benefits. Her title will certainly grant him access to places he's otherwise been denied, allowing him the chance to pursue a long-sought vengeance.
The only problem is, that the more these two spend in each other's company, the closer they become and the more difficult it will be to leave emotion out of this daring arrangement.
Spectacularly written with all the glamour and glitz of New York's Gilded Age, this book is one you won't want to miss!